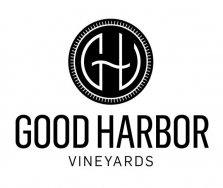 Wine Enthusiast knows Michigan Wine
Michigan's Good Harbor Vineyards
Blanc de Noirs Receives 90 Points
Get to know Michigan wine with $15 Flat Rate Shipping on purchases of $100 or more. Use code ENTHUSIAST21
Good Harbor Vineyards: A Full Production Winery
The Simpson Family Estates has been producing high quality wine at Good Harbor Vineyards for over 40 years. Pioneers in the Northern Michigan wine industry, the family believes great wine doesn't need to come at an extravagant cost. Good Harbor wines are known for over delivering on wine quality, while keeping the price tag accessible to all.
Family patriarch John W. Simpson first planted his roots on the Leelanau Peninsula in the fruit farming industry back in the 1950s. After his son, Bruce Simpson, returned from studying viticulture and oenology at University of California, Davis, he and his wife, Debbie planted grapes. Good Harbor Vineyards opened its doors in 1980, and is now run by second generation vitners, siblings Sam and Taylor Simpson.
Good Harbor Vineyards is located two miles East of the Lake Michigan Coastline in the Good Harbor basin. This water source and protective bay, combined with its cool climate creates ideal growing conditions for high quality, and now nationally recognized wine. In addition, the deep snow blanketing the vines provides a protective, insulating cover for the vines through the cold winer months.
The Simpson family has always focused on their farming roots, and believe that high quality wines are produced first in the vineyard and then continued further in the cellar. Good Harbor Vineyards is a full production winery and farming operation.
Pioneers of the Michigan Wine Industry
Good Harbor was the fourth winery established on the Leelanau Peninsula and remained one of four operating wineries until the mid 1990's. There are now over 40 wineries in Northern Michigan, attracting millions of visitors from the Midwest and around the country.
Get $15 Flat Rate Shipping on purchases of $100 or more. Use code ENTHUSIAST21.
Sparkling Heritage Series
Our John W. Simpson Sparkling Series honors the man who had the vision to start planting grapes and open Good Harbor Vineyards on the Leelanau Peninsula back in the late 1970s.



Purchase any combination of Good Harbor Vineyards wine totalling $100 or more and receive $15 flat-rate shipping with code ENTHUSIAST21. Offer valid for orders placed 7/5-12/31/21 and limited to one use per customer. Club Discounts cannot be applied.
© 2021 Good Harbor Vineyards. All Rights Reserved.